Employee Self Service
Jedhru Employee Self-Service portal is an online interface that emplowers your employees. Every employee will get access to self-service webportal and also mobile app to view their personal information, payslips, tax details and manage reimbursements, leave application and attendance requests
Your managers can now review and approve/reject the leave applications, attendance requests from anywhere using mobile app. They can track employees leave and attendance across the locations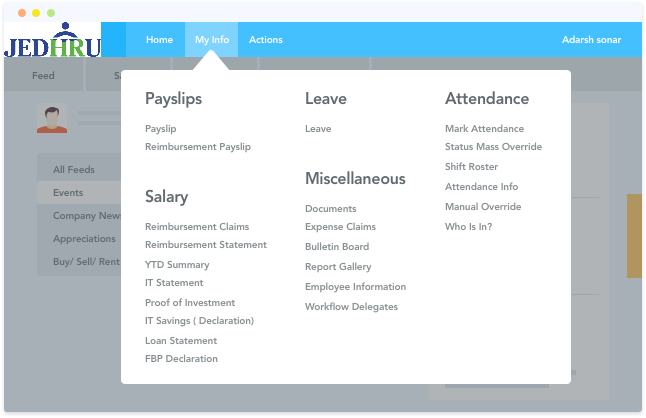 Personal Information
Employee can view and maintain their personal information, bank details, PF and ESI details. Managers can view all his employee's directory
Official documents and Company policies
Access and download any official documents and letters like offer letters and appointent letters published by HR or payroll team
Access and download latest company policies, employees handbook and forms available
Social networking
You will have an intenal social network with our social feed. Employees can view, like, comment on company updates, news and events on our social feed section. Wish collegues on their birthday and anniversary, welcome new employees and so on
View Payroll Information
Employees can view current and past months payslips, IT computation statement, total earnings statements, Reimbursement statements and claims, YTD statements. Also, view details related to loans or advances like installments paid, balance payable, etc.
Create Multiple tax plans, compare and submit best tax saving plan (tax declaration). Submit final IT Proof Of Investments (POI), during the year end
ESS - Leave management
Employees can View leave balances and holiday details. Employees can apply for leave, restricted holiday based on the leave balance and request the managers to grant compoff
Managers can view their team members leave information and approve/reject the leave application.
ESS - Attendance
Employees can view their attendance information: view swipe details (in and out) real time, present/absent days, half day present and apply for regularization if they see any mismatch.
Managers can view their team's attendance information: Managers now can view employees shift details and assign/change the shift as needed. They can view their team's attendance acros the locations from anywhere and anytime like status of their attendance, who is in and who is out
Managers can view late logins and early logouts and manage attendance regularization request sent by employees
Helpdesk
Employees can access help desk on their mobile or the portal and manage all types of queries from anywhere, anytime. Your employees can raise tickets realted to any issue (can be used as payroll or IT or Admin helpdesk) on the helpdesk which will help payroll department function smoothly